House Removals Canary Wharf e14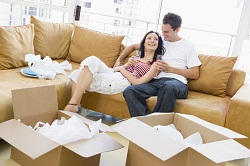 Canary Wharf, Relocation Has Never Been Easier Than This
Today, relocating to a new home can be a real challenge. From the packing up of your furniture to dealing with the bureaucracy of the change or address, there are so many details that you need to take care of. Your time is valuable, and no matter how much you plan and organize things, at the end of the day some kind of chaos will ensue. So why not make it a little easier by hiring a removals service?

Canary Wharf Removals are experts in domestic removals. We are well-prepared to provide help and advice with all types of home removals. We understand that each house relocation is different and quite unique in its own way, therefore we strive to offer tailored services for our clients' needs. Our team is highly trained and consists of experienced packers, movers and customer service representatives who are ready to help you at any time - day or night!

Our mission is to perform the removal process as quickly and efficiently as possible. We meet deadlines for our customers through accurate planning before every move ensuring that your belongings arrive safe and sound at their destination. All our staff have been trained to use professional packaging materials such as cardboard boxes, bubble wrap or cling film so your bulky items stay safe during transportation on our modern fleet of vans.

We Assure That Your Home Removal Is Stressless And Organized

Unlike other removals companies Canary Wharf Removals offer a full range services for home removals, which includes:



Unpacking (including storage)

Each one of these options is designed according to your budget, schedule and most importantly , your aspirations. Do not let the stress overwhelm you when it comes to planning relocation - give us a call or fill up an online booking form and we guarantee that everything will be taken care off properly from start till finish. We have competitive prices for packing materials such as boxes or tape, removal boxes and extra protection materials like blankets or mattress covers for tricky items like mattresses or kitchen appliances. Once the move is done and you're settled in your new home - if you need us again just give us a shout!
We can also help with more than just moving services like storage facilities if needed or even providing transport services when needed!


Hire Us For Relocation Services In E14 Canary Wharf Today!

At Canary Wharf Removals we don't only provide exceptional relocation services but we also strive to go beyond expectations delivering superior customer service experience. Our mission is ensuring customer satisfaction through delivery of quality services while keeping the costs low. We want to make sure that you receive value for money every time you hire us as your trusted removal company near Canary Wharf E14 district . Get in touch with our friendly support staff today by calling
. Our customer service department operates 24/7 seven days a week so don't hesitate to get in touch if there's anything you would like clarified about our amazing relocation package – we'll be glad to assist you further!